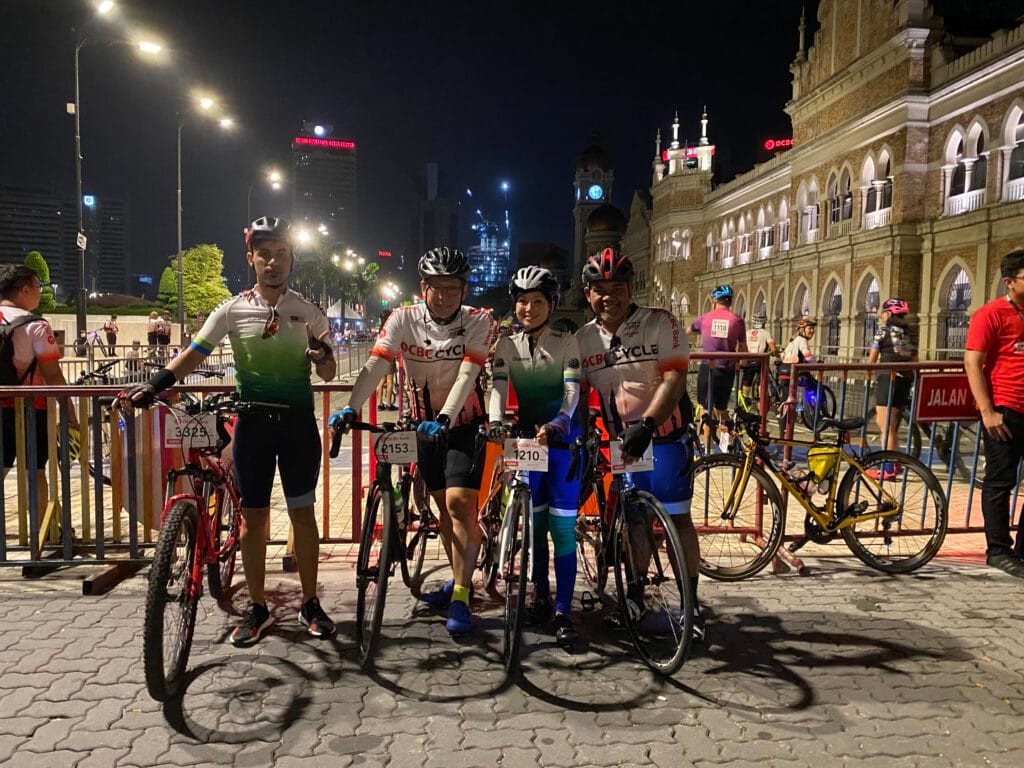 I've finished the entire 42km of the OCBC Cycle KL event today. And it wasn't as gruellingly challenging as I feared it was going to be.
The few of us who were participating made plans to meet at Menara Maxis at 5am, intending to do a roll-out at 5.15am to the site of the flag-off in Dataran Merdeka. While there was a list of names that were floating around in the WhatsApp chat group, in the end, only five of us (Vishal, Agnel, Charene and BX) rode off from our office at 5.45am.
The excitement and anticipation at the starting line was high. Everyone was psyched up and we took lots of photos. However, I had to pee so badly just before flag off. At this time the problem was that we were already in the pen. I had to get Agnel to take care of my bike while I frantically ran out to find one of the portable potties. I must admit that I was tempted to go into a dark alley and relieve myself there but the thought of trying to contort myself while not removing my bib would draw too much unwarranted attention.
I ran clumsily to the potty and back in my cycling shoes with minutes left to spare. My heart was already beating at 120bpm when I got back to my bicycle. To officiate the ride, they had the KL Mayor there to give as speech. It was a pretty disappointing speech as all he did was rattled off the route of the race, "First go along Jalan So-and-so and then turn right into Lorong this-and-that; go for a while and then join up to Lebuhraya ini-dan-itu…". But suffered through it we did and soon we were off.
The starting was slow. People were pushing their bikes pass the starting line because it was densely packed. There was a steady procession of rhythmic zizzings of the pawls punctuated by the clicks-and-clacks of cycling shoes. When an opportunity opened up, I clipped my right foot in and rolled myself until it was safe enough to mount the bike and clip my other foot in.
I started strong. I was averaging 30 plus kmh and was amazed by the speed. However, when I stared at my heart rate on the Garmin on my wrist, it was already touching 180bpm. I immediately realise that it was the adrenaline that was causing this burst of energy. The funny thing is that I didn't really feel any exertion. I can't feel the heart beating in my chest. My legs were strong. The only tell-tale sign was that my breathing was more laboured as usual. I started to slow down consciously and monitor my heart rate.
Soon, I gradually overtook a lot of cyclists. The climbs that I was worried about wasn't as bad as I expected. Going up was okay as I was averaging 20kmh upwards. But my heart, oh my heart. I couldn't feel it but my Garmin was close to red-lining. And so I was constantly monitoring my heart rate to ensure that my ticker doesn't explode.
I finished the first 21km loop in 45 minutes, a respectable time. When I hit 35km, I was mentally ecstatic as I knew that I was finishing this race. What was left was just 7km which is the normal loop that I do every morning near the house. Psychologically, it was an easy distance to cover. And that was when my body crashed. Oh yeah, I've felt something that I hadn't felt before- cramps on the left calf. It was painful but I've managed to stretch it out. At first I though that it was because of the position of how I sat.
But when it happened again, I knew that it was my muscles shutting down. This time, it happened on my right calf and the left thigh. I was then fearful that my body would lockup and then I would fall because my body was disabled. I mentally tried to clam myself over and over again that it would't happen. It was probably the closest I had ever felt to a bonk. With every ounce of energy I had left, I diverted all efforts to keep pumping my legs- pushing and pulling the pedals.
And with that, I zipped through the finish line at 1 hour 33 minutes. Nazim was first and Niraj was second. The three of us waited for the rest to complete. I was ecstatic (and a little dizzy right after the race) and it was all good.
Now having a quick recovery at home and then off to the airport for a long distance business trip.