After a few days of using the new iPad Air with the Magic Keyboard and Apple Pencil 2, I am glad to say that it is much closer to a laptop. It has neat features and design that makes it so much more closer to a laptop replacement. But that is not the full story. Find our more in this long-ish iPad Air review.
I'm using my iPad Air for work, personal projects and leisure (see my earlier entry here). I'm going to divide this iPad Air review into a few areas:- mobility, productivity and flexibility.
Mobility
While the namesake of the iPad Air has the word "Air", the tablet is just a tad lighter than the equally sized iPad Pro. Weighting at a 458g (vs 471g for the iPad Pro), the iPad Air does feel lighter. I am forgoing a case but opted instead for a protective sticker for the back and front of the tablet. This is not merely an aesthetic choice (the sky blue color is really nice) but also one of practicality.
I use the tablet in combination with the Magic Keyboard which doesn't flip all the way back. Using the tablet as a tablet requires the removal of the iPad from the magnetic holders of the Magic Keyboard. My iPad is always attached to the Magic Keyboard unless I need to carry it to take notes or to read while laying down. Having to fiddle around with a second case just to carry it around without the keyboard is way too cumbersome for me.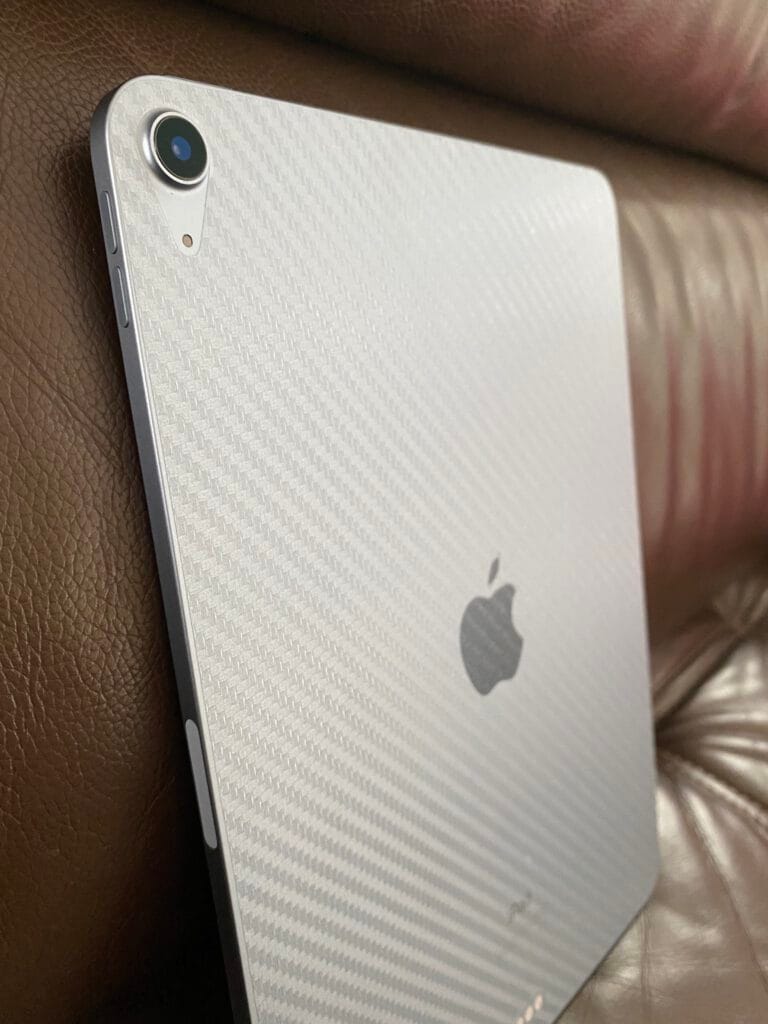 Productivity
For this more detailed iPad Air review, I tried using it for work.
The new iPad OS is way better at handling multitasking than before, though you can only have 2 apps side-by-side. As long as it involves dragging a graphic or some text from one window to another, it works fine. But if work involves copy-and-pasting between 2 or more applications, then it is kind off cumbersome.
At first, I was a little apprehensive that Microsoft Office for iPad is a little too limiting. I am very familiar with Microsoft's ubiquitous productivity suite and can be considered as a power user. However, Microsoft does update the apps quite regularly and the latest version is better optimized for a keyboard and mouse experience. For normal day-to-day work involving creating PowerPoint slides, reviewing Excel (yes, formulas work) sheets and writing on Word, the learning curve is rather low and you'll be acclimatized in a matter of minutes.
However, a big caveat here is that the Magic Keyboard is indispensable if you intend to be productive with your iPad Air.
The iPad Air with the newer A14 Bionic chip is fast. Apps load immediately. There is no lag when surfing. Didn't try video editing but read that it scrubs 4K videos like a hot knife through butter.
The Magic Keyboard is a sheer delight. The keys on the Magic Keyboard have the right amount of travel which makes gives it a great typing experience.
The Apple Pencil 2 is not so indispensable but I use it the most to read and reply emails. I use Microsoft Outlook as my main email client. The Apple Pencil 2 allows deletion or filing via a swipe left or right (configurable via Outlook app settings).
Scribble is a new feature of iPad OS that can take handwritten input and convert to text. Most of my reply to emails are short and hence, there is a certain joy in scribbling the answer and then seeing magically translate to text on screen,
However, one major quirk is that the camera (which is located on the side when you flip the table horizontally to fit the keyboard) is just not suitable for video conferencing. I always look like that I am glancing to my right and not paying attention to the people that I am speaking too.
Regardless of that quirk, I didn't expect how much I have come to appreciate the limitation of iOS which inadvertently allows for better focus. One app per screen allows me to complete the task at hand without being distracted by another window. The rigidity of app sizes with pre-defined anchor points makes the work window neat and tidy. I tend to finish a task at hand more often on an iPad than on my MacBook Pro. All in all, work is a pleasure.
Flexibility
For this iPad Air review, I also looked into the concept of flexible which is a key consideration for a daily driver. For instance, my MacBook Pro is used for e-mails, presentations, deck building and communications. When I roam the office during the work day, the device is teethed to a desk.
However, we are all living in a new normal now. The workplace is also now your home. I rather be lugging my iPad Air with its Magic Keyboard than bring my MacBook Pro with me wherever I may run to in the house. It is lighter. It runs cooler. I can also detach the "screen" and answer my emails while lying down on the ground.
The iPad used to be a rather closed device. However, I can't over stress how much a big deal it is that Apple decided to use the USB-C port instead of the standard lightning port. Now, I can attach a screen or an external hard drive to the tablet, making it even closer to a laptop.
Use FAT32 file format If you intend to use an external drive that is shared with a Windows PC. There is still no word yet on support for NTFS on iPad OS 14.
In Conclusion
The new iPad Air with Magic Keyboard is a compelling package for those looking for a new computing experience. I have had much joy using the device in the past few days. An iPad for me has always been a consumption device. But I have spent hours creating documents, managing websites and getting work done with it without any major hitches. The question is will this package be enough to replace my MacBook Pro?
The short answer after this long iPad Air review is a resounding: Almost there but not immediately.
iPad apps have come a long way. If I were to make a non-scientific estimation, they are at least 85% of of what desktop versions are capable of. For me, this is a question of when they will become powerful enough, not if. With Apple Silicon and the Universal Binary 2 framework, iOS and iPad OS apps can easily run on Mac OS without much modifications.
Hopefully, mobile apps will be more capable as companies develop them for the mobile devices first rather than vice-versa. When enough apps have reach that level, I promise another iPad Air review, this time focusing on software.
However, I wouldn't hesitate using the iPad Air plus Magic Keyboard and Pencil 2 combination for non-mission critical work. I have enough confidence to leave my MacBook Pro behind if I were to travel again for holiday. The iPad Air is more than capable in handling Google Maps, travel planning, emails and photo editing with Adobe Lightroom.
The package is very compelling and good. But it feels like a luxury now. The price of the iPad Air plus keyboard plus pencil is almost the price of a nice MacBook Air. You will enjoy it if you already have a notebook as a backup. If you can only afford one device, a notebook still has a lot to offer though in a less flexible package.